The Egyptian Hieroglyphic Sign for the Sky 𓇯
Keywords:
Egyptian hieroglyphs, hieroglyphic repertoire, sky, doors of the sky, hinge
Abstract
After refuting previous interpretations, it is argued that the Egyptian hieroglyphic sign for the sky 𓇯 represents the two closed lower hinges of a door. The sky itself, infigurable by nature, would therefore only be represented by the entrances through which it could be reached. This hypothesis fits perfectly with the standards of the Egyptian iconographic and scriptural repertoire from the earliest periods, when the sign first appeared, while at the same time echoing the sign [hiero] that represents a concrete element of the material world, the door hinge. It also resonates with conceptions of the Egyptian imaginary world as revealed in ancient texts (the famous motif of the "doors of the sky").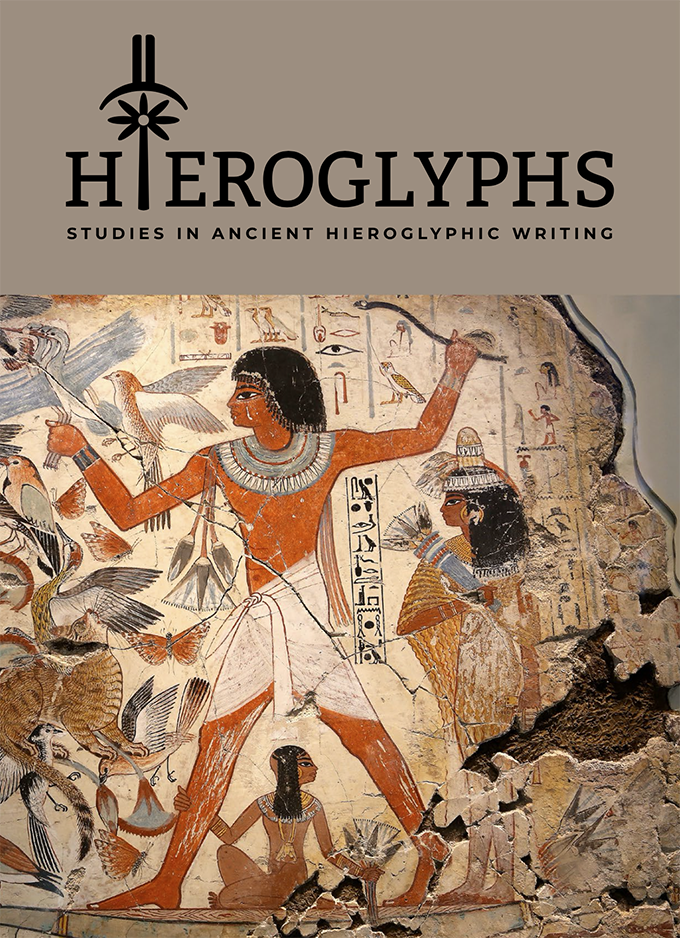 Downloads
How to Cite
Collombert, P. (2023). The Egyptian Hieroglyphic Sign for the Sky 𓇯. Hieroglyphs, 1, 219–244. Retrieved from http://cipl-cloud37.segi.ulg.ac.be/index.php/hieroglyphs/article/view/5
License
Copyright (c) 2023 Philippe Collombert
This work is licensed under a Creative Commons Attribution-NonCommercial-NoDerivatives 4.0 International License.