An Egypto-Grammatology
Why and How
Keywords:
hieroglyphs, grammatology, taxonomy, Unicode, typography
Abstract
Grammatology as a field of study in Egyptology, though having by now quite old roots, remains difficult to define. It is commonly confused with palaeography. The latter, however, is limited to the formal aspects of a hieroglyph and its variations. Setting aside the theories developed by Ignace Gelb and Jacques Derrida, Egypto-grammatology addresses all cultural aspects of the writing system and its components. The present article summarises the main difficulties the grammatological process should address and gives some examples of what one can expect from it. Relying first on philological, lexicographical and palaeographical analyses in a diachronic perspective, the aim of Egypto-grammatology is to recover what was the cultural meaning of a hieroglyph for the ancient Egyptians. To reach this goal, it uses all possible information given by iconography and archaeological remains and, whenever possible, the theological signification embedded in the hieroglyphic image. This approach makes it possible to identify correctly what a hieroglyph represents and thence to give it its proper place in a taxonomic system. Ultimately, Egypto-grammatology brings into the validity of some principles and limitations imposed by the Unicode Standard for the implementation of Egyptian hieroglyphs.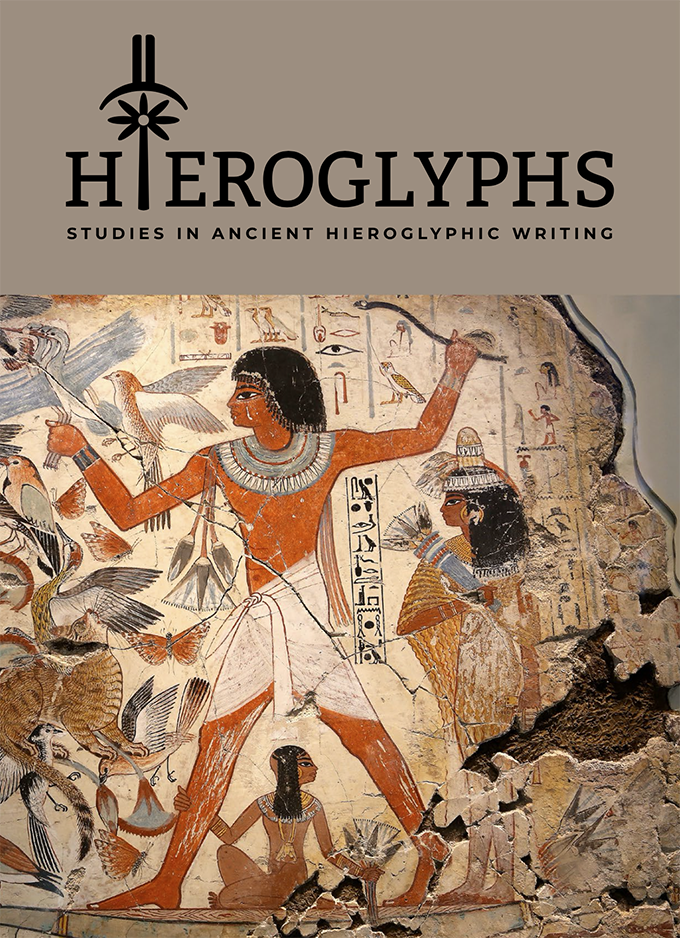 Downloads
How to Cite
Meeks, D. (2023). An Egypto-Grammatology: Why and How. Hieroglyphs, 1, 7–30. Retrieved from http://cipl-cloud37.segi.ulg.ac.be/index.php/hieroglyphs/article/view/1
License
Copyright (c) 2023 Dimitri Meeks
This work is licensed under a Creative Commons Attribution-NonCommercial-NoDerivatives 4.0 International License.